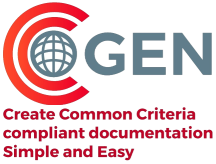 Welcome
Providing Common Criteria compliant documentation for product evaluation is one of the more time consuming activities that manufacturers looking for a CC certificate have to face. This is especially true for companies without previous experience in certification who are not used to the volume of content required by the norm, making them feel totally lost, not knowing where or how to start.
One of the most problematic issues that manufacturers (and labs too!) find during the documentation phase is the constant reappearance of inconsistencies. For example, when we change the name of an SFR iteration, the name of an objective or the code of a test. We can find ourselves losing precious time avoiding inconsistencies instead of employing it in the creation of quality documentation that facilitates understanding of the product details enabling it to pass the evaluation without any problems.
CCGen is a new cloud ready freemium tool to aid in the generation of CC compliant product documentation. With a wizard like approach, CCGen will guide you step by step, taking care of every possible inconsistency in the documentation process, accompanied by expert commentary, tips and hints regarding how to easily meet the CC norm.
Learn about the advantages that CCGen will bring to your work!
Product Briefing and Product Editions
CCGen is distributed in different editions depending on user needs. Some of the functionality may or may not be available in your edition.
The free edition is the edition available to everyone on the Internet. It allows the creation of basic Security Targets without Protection Profile compliance and without expert tips.
In the free edition, the project file is never saved in the server. This way you are responsible for the project file and you should load this file whenever you access the app (like in a desktop application)
If you want to know more about CCGen and the available editions click on the image to Download the product profile.
Download Product Briefing